Dog Cranial Cruciate Ligament Injuries, Symptoms and Treatment
Dog Cranial Cruciate Ligament Injuries, Symptoms and Treatment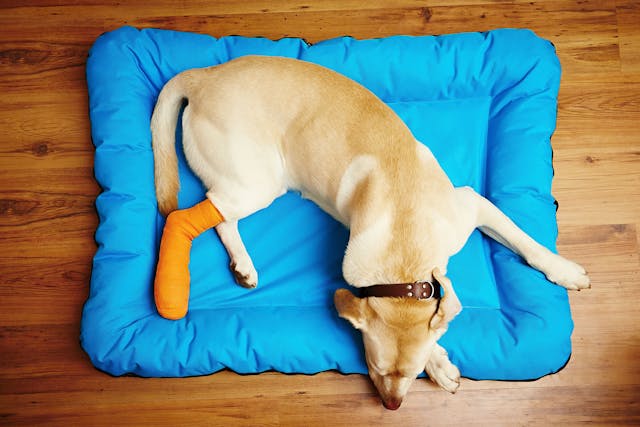 Has your dog started limping on one of its rear legs?
Like humans, dogs can get injuries that result in limping. While limping in dogs in common, it's not normal.
If your dog is limping, it could be suffering from a ruptured cruciate ligament.
What is a cruciate ligament?
In dogs, the cranial cruciate ligament [CCL] is the main supporting ligament that stabilizes the knee. The cruciate ligament is a fibrous tissue that connects a dog's knee and shin bone together.
Like in humans, this part is the most commonly ruptured ligament in the knee. When it tears, it can be a partial tear or a complete rupture.
Causes of cranial cruciate injuries in dogs
The larger breeds of dogs such as Labrador retrievers are most likely to suffer from ruptured knee ligaments. So are obese dogs. Whether the tear is partial or complete, it can cause a considerable amount of pain to the dog.
Most causes of cranial cruciate ligament injuries include:
Repeatedly applying stress on the ligament in the same manner
A background in intense exercise
A past incidence of a jump gone wrong
Obesity
Dog using Corticosteroid medication for a long time
Symptoms of a cranial cruciate ligament injury in dogs
Signs of injury include:
Sudden, severe limping on a rear leg, followed by the dog crying out in pain
Visible swelling in one knee
A decrease in the muscle mass and a progressive weakening of one leg
Inability to bear weight in the injured knee
The dog won't sit squarely
Difficulty getting up or jumping up into a car
What to do when you notice your dog limping
If your dog is limping, it could be suffering from a ruptured cruciate ligament. It's important to take your dog to a vet as soon as possible. Failure to, the dog will limp for a few weeks, appear to be healing but end up with a permanent unstable knee joint.
The vet will sedate your dog and perform a simple physical examination. If it's indeed a cruciate ligament injury, the vet will manually remove the knee if the ligament is completely torn.
If it's a partial tear, an MRI, x-ray, or arthroscopy can be used to diagnose the injury.
Treatment and prevention of cranial ligament injury
Once the vet has confirmed the diagnosis, they are likely to suggest surgery.
Surgery for cranial cruciate ligament tear Boulder is typically best to treat the injury because it permanently controls the instability in the knee joint. Surgery not only repairs the ligament but decreases pain and instability.
The other option is medical therapy involving weeks of cage rest, underwater treadmill therapy, and sit-to-stand exercises. Affected dogs also receive oral anti-inflammatory drugs and supplements for the joint.
The medical management that includes weight control and physical therapy enables your dog to return to normal activities.
However, while medication and rest may help, surgery is the best treatment for a ruptured cruciate ligament.
When it comes to preventing cruciate rupture, keeping your dog at a healthy weight and ensuring it gets enough exercise can minimize the risk. Otherwise, it can't always be prevented.